MAIN MENU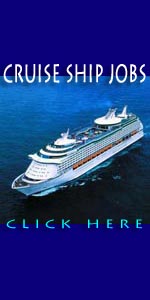 New Articles
Common Courtesy in Cruising
You don't need a Miss Manners at sea to know there are some basic, common sense rules of etiquette for cruising. No, there is no handbook on it, but the key words here are "common sense." For some less thoughtful folks onboard, taking a...

The Cruise for You
You may have heard stories from friends about their disappointing cruise experience because their kids were bored. Or your recently married cousin's honeymoon cruise was nerve-wracking because she went during Spring Break when the cruise...


Cruise Destinations
When someone thinks about cruises, they often think about the balmy beaches of the Caribbean or Hawaii. However, there are lots of other places that people do not often think of that are great places to go on cruises. Cruises are not just for beach side relaxing, but can be used for all kinds of other expeditions in all different types of climates, and even some beach front places that you would not ordinarily think of. Here are outlined some beautiful cruise vacation destinations that you would not ordinarily plan in to your itinerary.

The Greek islands are a beautiful vacation spot, and while they are definitely not left off of people's vacation agendas, they are not very often associated with the idea of cruises. However, they are a beautiful spot to not only to relax and enjoy the ocean and beaches, but they are also a wealth of rich cultural heritage and amazing ancient architecture. The native people are incredibly hardworking and friendly, and spending a day exploring among the sea side villages would be a great way to meet different types of people and get to know a little bit about yourself as well. Of course, there is also the added bonus of the amazing traditional Greek food.

Northern Africa is home to a lot of cruises, from Libya to Egypt to Morocco. These cruises boast not only beautiful luxurious accommodations on board the ships, but also on the land. These cruises also offer a variety of cultural experiences for the adventurous and even the not so adventurous.
Today's Article

Taking a Cruise: Hurricane Season in the Atlantic
Hurricane season can be a rather tricky time for summer travelers. Kids are home from college, the younger kids are out of school, mom and dad are taking time off of work and the family want to take a vacation. Wait...what about...



Archaeological guides take guests through the ruins of ancient civilizations and to renovated castles that now provide plush accommodations for passengers while on the land. Taking in the local marketplaces is a great place to buy souvenirs, instead of gift shops or on the cruise boat itself.

Antarctica is a place that you would definitely not commonly associate with a cruise vacation. However, it is for this reason that it makes such a wonderful vacation spot. It is the last frontier here on earth. Scarcely populated, the lack of development has left plenty of space for wildlife. While you should definitely pack a bit differently for an Antarctic cruise versus a more balmy environment, it is worth it to see all of continent's rare inhabitants and to be a part of what is practically a secret society.

Costa Rica is home to a very lush and populated rain forest, as well as some very interesting locals. In addition to providing cruise passengers with a lively and beautiful environment to explore, and some very rare and interesting wildlife, the beautiful beaches and warm climate make Costa Rica a fantastic vacation spot. There are also a lot of volunteer opportunities if you would like to make your vacation a capacity building one, as well as programs wherein you can stay with families who actually live in Costa Rica. This is a great opportunity to learn a lot about another culture and expand your own horizons.
Cruise Ship Vacations for Seniors
In many areas of the world, including the United States, we often view senior citizens as having limits. While health issues may plague some senior citizens, most individuals are healthy and happy. In fact, many consider their senior...

Taking a Cruise: A Brief History of the Cruising Industry
Before the use of airplanes and luxurious passenger jets became popularized in the 1960s, taking trips on ocean liners was certainly the way to travel! This is when the Boeing company released their ever popular 747 jets. Back then,...


Find More Articles And Resources From www.treasure-vacations.com/cruises
Only The Best Products

Get A Cruise Ship Job! How To Get A Job On A Luxury Cruise Ship
Quickly & Easily!

Make Your 1st Cruise Your Best Vacation. At Last! Cruise Industry Experts Reveal: Every Secret To
Successfull Cruising.

Disney Vacation And Savings Travel Guide. Ex-Disney Employee Reveals
Insider Secrets.


Warning: fopen() [function.fopen]: Couldn't resolve host name in /home/healthyh/public_html/treasure-vacations.com/cruises/rssfeed.php on line 352

Warning: fopen(http://rds.yahoo.com/S=53720272/K=travel/v=2/SID=w/TID=N001_71/l=NRE/SIG=12j9vol9t/EXP=1133994062/*-http%3A//news.search.yahoo.com/news/rss?p=cruise+vacation&ei=UTF-8) [function.fopen]: failed to open stream: operation failed in /home/healthyh/public_html/treasure-vacations.com/cruises/rssfeed.php on line 352

Warning: fread() expects parameter 1 to be resource, boolean given in /home/healthyh/public_html/treasure-vacations.com/cruises/rssfeed.php on line 354

Warning: fclose() expects parameter 1 to be resource, boolean given in /home/healthyh/public_html/treasure-vacations.com/cruises/rssfeed.php on line 357

Warning: date() expects parameter 2 to be long, string given in /home/healthyh/public_html/treasure-vacations.com/cruises/rssfeed.php on line 364

Warning: date() expects parameter 2 to be long, string given in /home/healthyh/public_html/treasure-vacations.com/cruises/rssfeed.php on line 365

Warning: date() expects parameter 2 to be long, string given in /home/healthyh/public_html/treasure-vacations.com/cruises/rssfeed.php on line 366

Warning: date() expects parameter 2 to be long, string given in /home/healthyh/public_html/treasure-vacations.com/cruises/rssfeed.php on line 367

Warning: date() expects parameter 2 to be long, string given in /home/healthyh/public_html/treasure-vacations.com/cruises/rssfeed.php on line 408

Warning: date() expects parameter 2 to be long, string given in /home/healthyh/public_html/treasure-vacations.com/cruises/rssfeed.php on line 409

Warning: date() expects parameter 2 to be long, string given in /home/healthyh/public_html/treasure-vacations.com/cruises/rssfeed.php on line 410

Warning: date() expects parameter 2 to be long, string given in /home/healthyh/public_html/treasure-vacations.com/cruises/rssfeed.php on line 411